I am a fully-qualified Holistic Therapist, trained by the Vocational Training Charitable Trust (VTCT) dedicated to providing effective holistic treatments. I am a registered member of the Federation of Holistic Therapists (FHT). I provide a range of therapies: Clinical Level 5 Reflexology, Maternity and Fertility Reflexology & Cupping Massage Therapy & Aromatherapy & Hot Stone & Warm Bamboo & Pregnancy & Onsite Acupressure & Indian Head Massage & Holistic Facial & Hopi Ear Candle & Thai Foot Massage. I currently work as an individual therapist at Samye Foundation Cardiff Mindfulness & Well-being Centre.

I am constantly endeavouring to learn new therapies and techniques, which I have implemented in my practise.
I am passionately committed to raising awareness of the benefits of complementary therapies for total health and well-being. It is best to live and eat healthily and I believe that the spirit, mind and body need to be in harmony to keep well and fit.

I'm really looking forward to continuing to work with my regular clients and also to meeting new clients who feel the benefit of regular treatments.
Love life, live well naturally...

Om Shanti Eniko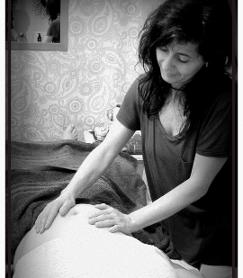 ''The body is your temple. Keep it pure and clean for the soul to reside in.'' ~ B.K.S Iyengar

ॐ
"To keep the body in good health is a duty, otherwise we shall not be able to keep our mind strong and clear." ~ Buddha
''Each person comes into this world with a specific destiny - he has something to fulfill, some message has to be delivered, some work has to be completed. You are not here accidentally - you are here meaningfully. There is a purpose behind you. The whole intends to do something through you.'' ~ Osho
''The secret of health for both mind and body is not to mourn for the past, not to worry about the future, or not to anticipate troubles, but to live in the present moment wisely and earnestly''~ Buddha
"You cannot lead a balanced life without periods of relaxation. This is not the same as sleep, which is combination of restfulness and specific internal activity. Relaxation is the vital process of letting-go." ~ Howard Kent
''Every now and then go away, have a little relaxation, for when you come back to your work your judgement will be surer; since to remain constantly at work will cause you to lose power of judgement. Go some distance away because the work appears smaller and more of it can be taken in at a glance, and a lack of harmony or proportion is more readily seen. '' ~ Leonardo da Vinci
''Preventing illness is just as important as curing illness, and as a general rule a healthy person should aim to receive a full reflexology foot treatment at least once a month.'' ~ Ann Gillanders

250 Cowbridge Road, Canton, CF5 1GZ Cardiff | 07857 132665